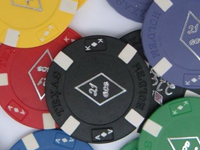 If you are looking to play online poker, the last thing you want to do is waste time going through log-in pages and struggling to find what you are looking for. With so many poker sites to choose from, it is obvious some will be easier to navigate than others but some are just too complicated or poorly laid out for their own good. There is no doubt that most poker players just want to get online and start playing, which means the easiest poker sites to navigate are the ones that will be the best for most players.
It sounds like an easy concept when constructing a website but some poker sites try to offer a lot of features and promotions. This is a good thing for players but if the layout of the poker site is not clear, players can get confused and frustrated by a site. First impressions definitely count for a lot and a poker site that is cluttered will not be appreciated by most online poker players. Over time, navigating between the features may become second nature to most poker players but with so many other sites to choose from, no player is going to spend a lot of time on a site that is complicated to use.
An online poker site has to be easy to use
This is a shame because use over time may indicate a site is well worth using but no one should struggle to get where they are going on a poker site. It is not as if online poker sites are only used by people with a lot of internet experience, many poker players are not big users of the internet. In fact, if it wasn't for the large amount of online poker sites, many online poker players wouldn't have been on the internet.
One of the biggest problems for some players is trying to place poker deposits and again, if a site makes it difficult to upload money to your own account, most players will decide to try a different site. It is not as if a business should be making it difficult to take a potential customer's money from them but there are some poker sites that cause difficulties in people uploading money to their account. If a player has a debit and credit card, they should be able to fund their account directly but many people do not have access to a bank account and this is where the player has to find alternative methods of funding their account.
Not all sites welcome players without a bank account
There are a number of options, such as playing poker with a Paysafecard, for players without a bank account to make poker deposits but these are not supported by every site. This means a lot of poker sites will be turning away players that are keen to play online poker but do not have the means to fund their online account. There are not too many companies that can afford to turn customers away so easily but this is what poker sites that do not make it easy for players to deposit funds are doing.
Personal taste and preference will mean that even though some players like the layout of a poker site, other players will not. There is not too much a web designer or site can do about people having different tastes but they can have a lot to do with people not enjoying using a site. There is a need to make poker sites as uncluttered as possible, allowing people to get to the tab or section they want with the minimum of time or effort. Playing online poker is never going to be easy but getting into the game should not be difficult.